Visiting rules for saunas
Visiting rules for saunas and baths in the Wellness Hotel Frymburk.
For hygienic reasons, only sheets and towels are allowed in the sauna world.
All persons who are affected by any illness that may endanger their health when using the saunas and baths or may endanger the health of other participants in the saunas and baths (including upper respiratory tract diseases) are excluded. This includes persons affected by high body temperature, cough, eye inflammation, contagious or disgusting diseases, persons with a cold or bandages. Excluded from participation are bacillary carriers of intestinal or other contagious diseases.
Do not go to saunas and baths with a full stomach, neither hungry nor immediately after great physical exertion.

Children must be accompanied by a person over 18 years of age.

Before entering the saunas and baths, the visitor is obliged to take off his/her swimsuit (sauna and bathing in a swimsuit is not hygienic, it can cause a burn or rash), wash properly with soap and take a shower. During the bath, the visitor is naked ( barefoot ).

Sit comfortably in the tub, wait until you are properly warmed up - 10 to 20 minutes, breathe preferably through the nose.

In the sauna, sit comfortably or preferably lie down. When sitting or lying down, put a sheet underneath you (every part of your body that touches the wooden surface must be properly supported).

After leaving the sauna, it is necessary to take a shower first and then cool down under the shower, in a bucket or in a cooling pond. Use the cooling pond for a maximum of 2-3 minutes.

After cooling down, you can rest or immediately follow up with another repetition. The heating and cooling cycle is usually done 3 times. The process must be adjusted according to individual feelings and current state of health. Persons with circulatory disorders should consult their doctor about sauna therapy.

The last sauna and bathing time should be significantly more restful - ideally 20 minutes.

Every visitor is obliged to maintain cleanliness, order, basic hygiene habits in the saunas and baths and the instructions of the staff. It is forbidden to bring other items (bathing caps, shoes, plastic products, glass, etc.) into the sauna and baths.

It is forbidden to pour water on the stove and use aromatic additives in the sauna ( possible allergies of other visitors ) - this is done only by the sauna attendant.

Every visitor is obliged to keep calm and not to disturb other visitors with his/her behaviour.

In case of injury or nausea, the sauna attendant must be called and first aid must be given.

Every visitor is obliged to obey without reservation the instructions of the sauna attendants and chans concerning the operation of the facility. In case of disobedience, the operator is entitled to expel such visitor from the premises.

Make sure to take good quality fluids - mineral waters, fruit juices to replenish sweaty water, minerals, salts and vitamins.

For hygiene reasons, it is forbidden to use any scrapers,washcloths,brushes etc. in public saunas.
Get the benefits with direct booking
With every stay you can get
Unlimited entrance to
the sauna world
Unlimited entrance
to the Aquapark
Free towel, bathrobe
and slippers rental
10% discount on
treatments and massages
Our rooms
Experience the modern hotel rooms and first-class service of our four-star hotel!
Whats new Wellness hotel Frymburk?
News, attractions and events from the hotel
Are you ready to be pampered? At the Wellness Hotel Frymburk, we're taking pampering to a whole new level.
So sit back, relax and leave the rest to us.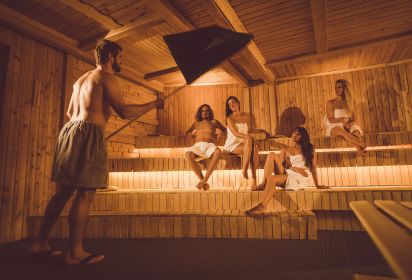 News and events ∙ 2023-11-15
Sauna Ceremonial Night, a magical evening of relaxation and ritual that opens the door to a world of traditional sauna experiences and harmony of body and spirit.
continue reading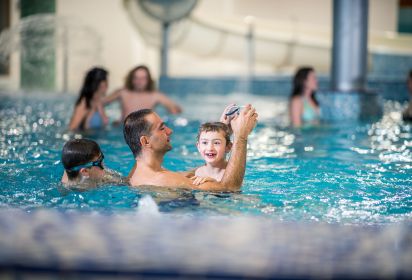 News and events ∙ 2023-11-15
We would like to inform you that our hotel will be closed from 24 November to 7 December 2023 due to planned repairs and cleaning of our popular Water Park.
continue reading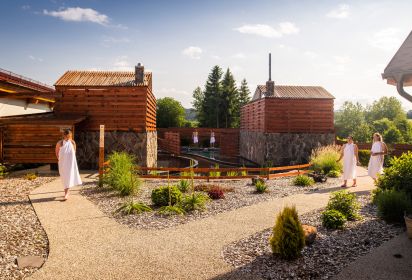 News and events ∙ 2023-08-20
At the Wellness Hotel Frymburk we celebrate Mondays and Thursdays with benefits for seniors and Wednesdays bring an irresistible 1+1 free offer for everyone!
continue reading
Location and estimated time of arrival to our hotel
How will you get to us?
Well-deserved relaxation on the Lipno River is within reach. Our hotel can be easily reached not only by car, but also by bus or train.
Wellness Hotel Frymburk
Frymburk 140
382 79 FRYMBURK České Budějovice (CZ)
40 min
Wellness hotel
frymburk
© 2023 HotelFrymburk.cz. All rights reserved. Created by Alcedo Media.

Upozornění pro návštěvníky
We would like to inform you that from November 24th to December 7th, 2023, our hotel will be closed due to scheduled maintenance and cleaning of your favorite Aquapark.