Hotel area
The Wellness Hotel Frymburk offers a complete experience for all our guests. It is located in the picturesque town of Frymburk, where the beauty of nature is combined with first-class comfort and service.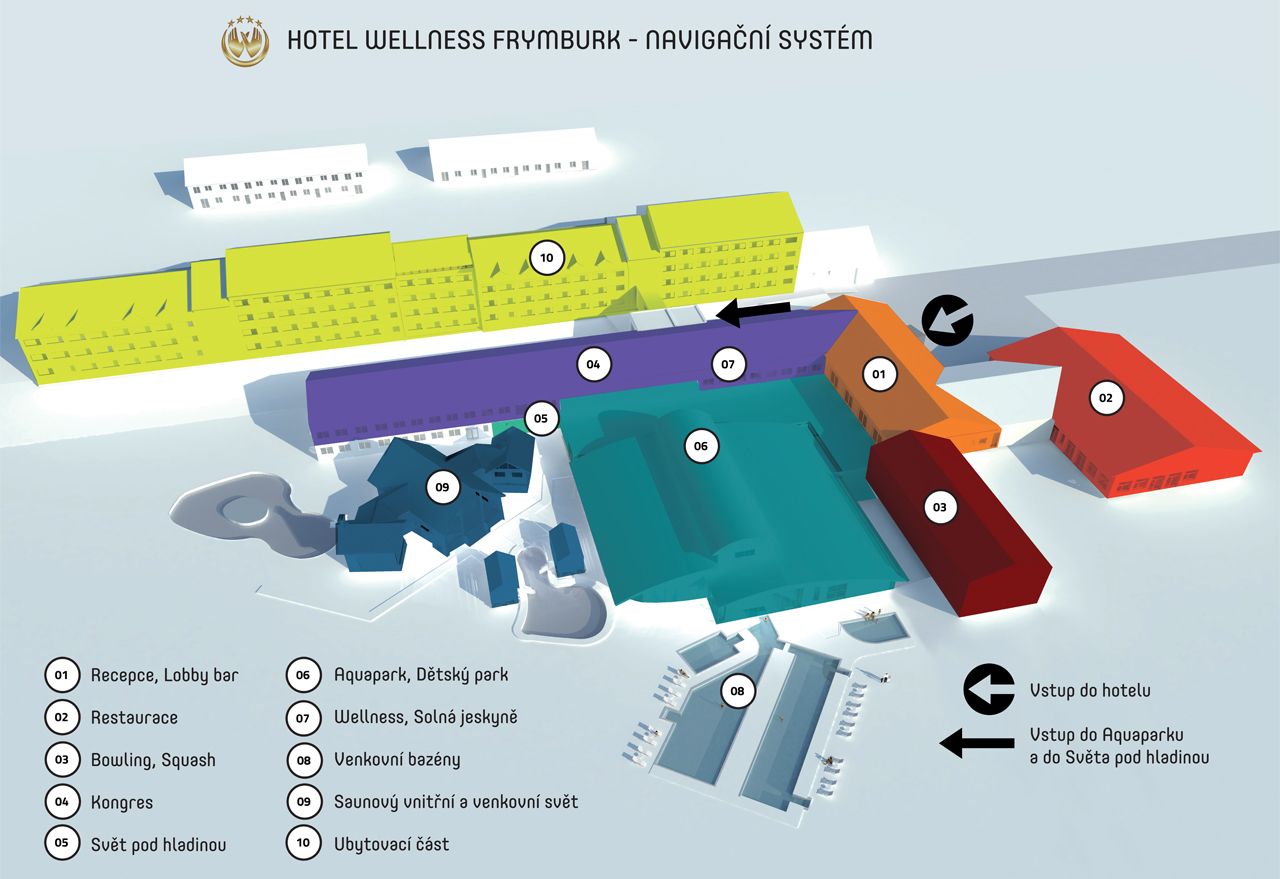 Our hotel is designed to give you the best possible experience during your stay. Enjoy the comfort and tranquility of our hotel and take advantage of unlimited access to the Water Park and Sauna World.
Under one roof you will find everything you need for perfect rest and relaxation. Our modern and cosy rooms are equipped with all the comforts you need to feel at home.
In our hotel complex you will find:
Restaurant: enjoy a selection from our extensive menu, which offers traditional Czech specialties and international cuisine. We use fresh and high quality ingredients that will make you enjoy every bite.
Lobby bar: the ideal place to meet friends, family or business partners. We offer a wide range of drinks, cocktails and snacks in an elegant setting.
Reception: our friendly and professional staff will be happy to advise you on the organisation of excursions, recommend the best places to visit and provide you with every comfort during your stay.
Congress halls: Fully equipped for various types of events and meetings, from conferences, training sessions to wedding receptions.
Exposition The World Underwater: Discover the mysterious world of marine life and be transported to an underwater paradise full of colourful fish and coral.
Water Park and Sauna World: Enjoy fun and relaxation in our modern water park and sauna world. We offer a whirlpool, water slide, indoor and outdoor pools, saunas and much more.
Wellness Zone: Regenerate your body and mind in our exclusive wellness zone, which offers massages, beauty treatments and special therapies for the ultimate relaxation experience.
Spacious parking lot: For our guests we have a parking lot on the hotel premises, which is free of charge and available 24 hours a day.
Sports rental: for sports lovers there is a sports rental in our area, where as our guests you have a 15% discount on the rental of sports equipment.
Get the benefits with direct booking
With every stay you can get
Unlimited entrance to
the sauna world
Unlimited entrance
to the Aquapark
Free towel, bathrobe
and slippers rental
10% discount on
treatments and massages
Our rooms
Experience the modern hotel rooms and first-class service of our four-star hotel!
Whats new Wellness hotel Frymburk?
News, attractions and events from the hotel
Are you ready to be pampered? At the Wellness Hotel Frymburk, we're taking pampering to a whole new level.
So sit back, relax and leave the rest to us.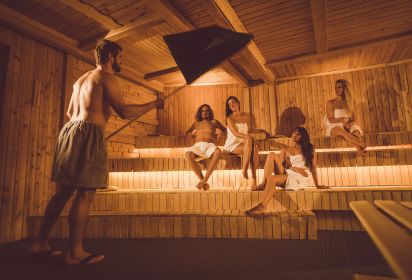 News and events ∙ 2023-11-15
Sauna Ceremonial Night, a magical evening of relaxation and ritual that opens the door to a world of traditional sauna experiences and harmony of body and spirit.
continue reading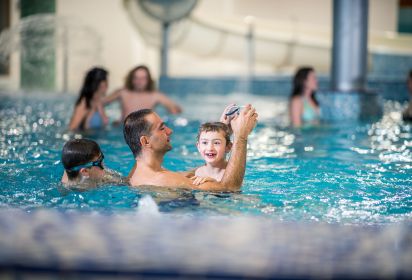 News and events ∙ 2023-11-15
We would like to inform you that our hotel will be closed from 24 November to 7 December 2023 due to planned repairs and cleaning of our popular Water Park.
continue reading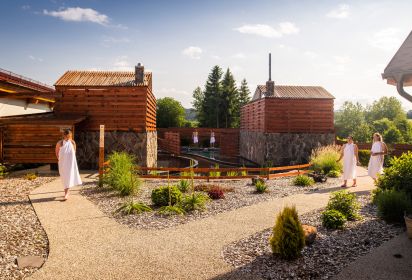 News and events ∙ 2023-08-20
At the Wellness Hotel Frymburk we celebrate Mondays and Thursdays with benefits for seniors and Wednesdays bring an irresistible 1+1 free offer for everyone!
continue reading
Location and estimated time of arrival to our hotel
How will you get to us?
Well-deserved relaxation on the Lipno River is within reach. Our hotel can be easily reached not only by car, but also by bus or train.
Wellness Hotel Frymburk
Frymburk 140
382 79 FRYMBURK České Budějovice (CZ)
40 min
Wellness hotel
frymburk
© 2023 HotelFrymburk.cz. All rights reserved. Created by Alcedo Media.

Upozornění pro návštěvníky
We would like to inform you that from November 24th to December 7th, 2023, our hotel will be closed due to scheduled maintenance and cleaning of your favorite Aquapark.